We just came back from a nine day holiday in Greece. Three nights in Athens and five nights in Oia, Santorini... simply A-maz-ing. This post will cover the best and worst restaurants we encountered in Athens. We have done our best to cobble together the photos we did get of food and try to locate and pinpoint them for you. Did we really find the best restaurant in Athens? The best Greek food in Athens? We certainly gave it a go... but occasionally we hit a dud. Our photo record was a bit patchy at times and a few rather good places we failed to accurately note the name. Too busy eating usually. Naughty food bloggers!
We did have some great tips to follow from other bloggers who had blazed the trail before us. In Athens we followed a few tips from local blogger
Matt Barrett
in his extensive guide to Athens restaurants, particularly his tips for the tourist hot spot Plaka district (the best food as it turns out is *gasp* not there at all). See below...
ATHENS
What a crazy, amazing, special place. Cradle of Western civilisation, democracy and philosophical thought and all that. They also like to build buildings and ruin them apparently:
ATHENS RESTAURANTS: PLAKA DISTRICT
PLATANOS
Recommended by a magazine review we read and also by local blogger Matt Barett. Nice old restaurant, that we understand to be something of an icon locally with magical garden seating area out front. Waiters are real characters. Mix of tourists and locals (mostly tourists).
Scores high on the ambiance and setting. Food let it down a little. Was really good value (around 6 - 10 euros per plate) but the portion sizes and the dishes themselves were fairly underwhelming. Pork souvlaki was really salty even for me (and I love salt believe me). Dolmades were two fist sized vine wraps slathered in bland bechemel style sauce (never really encountered the bechemel anywhere else on our trip, although have heard of dolmades being served with a lemon sauce in some cases. This wasnt lemony). Greek salad was par for the course. Suspect if you didnt play it quite so safe with choice of dishes you could get a better result. Simple, honest if underwhelming fare.
Service: Good
Ambiance: Excellent
Food: Meh
Gourmet lover rating: ♥♥ 2/5
VYZANTINO TAVERNA
18 Kydatheneon Street

,

Plaka

,

Athens

,

Greece

+30103227368

Google maps here
We went here on advice of Matt Barett. You could easily go wrong here right in the tourist heartland. He was spot on. It sits modestly amongst a row of restaurants but what differentiates this place is the locals who frequent it. And the food was all pretty good and decent value (8 - 12 euros per plate). We were still in tourist cliche' mode so had a Moussakka and a souvlaki special kebab, greek salad etc and a few Mythos beers for memory. Here's what Matt had to say about it: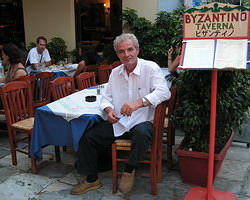 This is the restaurant of choice for many locals in the Plaka as well as tourists. From the outside there is nothing to distinguish it from the other more tourist-type places except for the great location in the small park on Kydatheneon street, but the food is better and influenced by the Greek clientele who eat there year-round. I like the spinach pie (spana- ko -pita), their fish soup (psa- row -soupa) which you can get it with or without a plate of fish. Of course they have the Greek salad (hor-ee- ah -tiko), eggplant salad (mel-eetsana salata), yogurt dip (sa-tzi-ki), and all the tourist standards. It's not cheap but it's not expensive either. I love their roast potatoes (fourno pahtahtes) and chicken (kotopoulo). They have bottled wine and cold beer and ouzo and mezedes..
.
If you go at night you may be disappointed because most of the oven-cooked dishes they make in the morning and serve at lunch are gone (or don't look as appetising). At night your best bet is getting something from the grill or salads. Fried calamari and potatoes are hit or miss. Your best bet is coming here for lunch
Food was defintiely better here than Platanos - but its setting wasn't quite as dreamy. Again simple taverna food. Service not as attentive as Platanos.
Service: Friendly but sporadic
Ambiance: Good
Food: Solid
Gourmet lover rating: ♥♥♥ 3/5
STAMATOPOULOU PALIA PLAKIOTIKI TAVERNA (WE THINK ?)
26 Lysiou St, Athens +30 210-322-8722 Google maps
here
And finally - the best of all in plaka we found is also the most mysterious and hard to identify and frustratingly lacks an photographic evidence. We stumbled across this garden balcony restaurant late on Sunday evening. Through ze power of ze internet we have deduced that its probably (95% chance) it is the
tongue twisting Stamatopoulou Palia Plakiotiki Taverna.
We do know for a fact its direct neighbour is the very popular Melina Cafe' at
22 Lysiou St
. We were rather fond of the cafe Melina having sunk some beers in frosted mugs there the day before (pictured) but going back there later in the evening we found its dinner menu was lacking. Hearing some live music up on the balcony restaurant immediately to the right we went and investigated. It was like the taverna holy grail. Fantastic food at good prices, greek music, and greek dancing! Granted it was a sole paralectically drunk Greek mother who tended to fall over onto random tables and her small children - but it was traditional greek dancing nonetheless. Probably more traditional than we realised.
Our freshly arrived travelling companions ordered the special of slow cooked veal Stifado, some stuffed peppers, dolmades and a greek salad. We had a snacking plate of greek sausage and some more Mythos beers
(it was hot alright?)
and a bottle of some very quaffable Greek wine. Result! The Greek salad came out nice and chunky made from quality ingredients. Best tomatoes we ate in Athens. The slow cooked veal was wonderful. The sausage was tasty. Stuffed peppers were a bit unremarkable but everything else was great. The ambiance was great too - a little sleepy towards the end as it was pushing past 1.30 am as we were finishing off. Even still the waiter was very friendly and apologetic dropping the bill at our table. We didn't mind in the slightest. Best restaurant experience in the Plaka for us. Go and find it on a Friday or Saturday night. Best I would think is to hit it around 9 - 11pm and kick on with the Ouzos in hand. Although I have sneaking suspicion you may have harder time getting table than we did as the locals seem to do the same thing.
Service: Friendly, attentive
Ambiance: Great
Food: Good
Gourmet lover rating: ♥♥♥♥ 4/5
ATHENS RESTAURANTS:
PORT OF PIRAEUS
Rewind a bit to our first full day in Athens and Bex and I having decided to hold off on seeing the big attractions until our travelling companions joined us in the evening. So we decided to head down the water - the Port of Piraeus and check it out. Its very easy 25 mins train journey from the centre of Athens and as we planned to catch our Ferry form there out to the islands so we thought it might not be bad to familiarise ourselves with the setup also. When you jump out at the station - its on the industrial working port side. Not much going on except big ships, Ferry tickets offices and take away joints. We had heard there were some good restaurants somewhere in the hood - so looked at a map and identified a more natural shaped harbour where we suspected the yachting crowd hung out on the other side of the point. About a 10 minute walk up and over the hill and hey presto -
we found the fancy 80 foot pleasure craft marina of Zea then around the waterline in the searing afternoon heat up to restaurant strip of Mikrolimano. Oh and joy of joys we found a little local beach (we were the only tourists). First swim of our holiday! This called for a Mythos beer in a frosted glass...
A KATOPODAKIA (?) FISH RESTAURANT
A Katopodakia (?): Akti moutsopoulou st (near corner of Messinias st.), Piraus, Athens, Greece
Google maps approximate location
here
So we had eyed this place off as we wandered around to the beach. There were many fine, sun drenched restaurants and cafe's along this strip - which all looked good. I spied a particularly nice bowl of mussels being served here as we headed up to the beach and decided this would be good to try out on our way back. It turned out to be our best food in Athens. Frustratingly, despite me taking an iPhone pic of the restaurant sign to chase up later, I have been unable to decipher the Greek sign enough to positively identify it. Doh! But I've included the hurried iphone pic of the sign below as a reference should you follow in our footsteps.
I will let the food speak for itself. All I can say it was very fresh, cooked to perfection and generally awesome. Best seafood we had all trip (yes including Santorini) and whilst it was a little more per dish than (around 12 - 15 euros) we had been previously paying the serving were generous and it was definitely worth the money. We ordered grilled prawns, fried calamari, tzaiki, and hand made lemony dolmades (best all trip). Simple yes but the ingredients did the talking.
Our waitress was kind and attentive, if not a little bemused that we decided to eat at 6.30pm (mad fools) when the street was largely empty and yet to pick up with life and a setting sun in full effect on the tables. No matter, we loved it, and whilst there was a lively street behind us with your odd local cruising past with stereo blaring, there was the water and marina to gaze across. We watched one of the 60 footer boats come in reverse into a space so tight it put the Athens street parking to shame.
Service: Friendly, somewhat bemused
Ambiance: Nice
Food: Lush! / Quality
Gourmet lover rating: ♥♥♥♥ 4/5
ATHENS RESTAURANTS: PSIRI DISTRICT
Unknown restaurant name (kind of average so dont really care)

Walking up the street we were spruiked into sitting down at one of the first major restaurants we came across. The waiter was charming, funny and promised us "the very best" . Breaking one of our own rules that the need to spruik your wares is a bad sign we relented and sat down. After examining the menu which was quite high on the price side (15 - 25 euro mains) we were at odds whether to abandon ship or stay the course. In discussions about this we suspect the waiter was lurking within earshot and suggested we get the 10 euro deal. Which comprised of tasting plate and glass of wine. Tasting plate comprised of eggplant dip, grilled haloumi, salad and some house white wine. Pleased we may have dodged a bullet by avoiding the more expensive fair we accepted and the food was brough forthwith. The food was nicely presented but a bit meh. It was the wine that was god awful . Tasted like they had served us some white wine vinegar with a dash of vodka that was stored in the rectum of a donkey. Serves us right for ordering the value deal!
The others also ordered a plate of squid, hoping to taste some of the delights we had told them about in Piraeus. Failing to check exactly its form, it arrived stuffed with cheese and baked. If you ask me that's just asking for it to be rubbery which it was. Final night food fail! Beware readers the spruikers in Psiri!
We payed our lot and wandered further into the maze of graffitied streets and lanes of Psiri we were shocked - it was kicking off in there! On a Monday night! Hookah bars, cafes, little bars and nightclubs. We cursed the fact we had spent our valuable last hours at that fringe restaurant and not in this area (we had a ferry at 6am). Although it did seem like most lively places were serving mainly coffee and drinks. I suspect we didn't really miss out food wise. The other restaurants we passed had similar prices on menus - and bored waiters out front eyeing us off like registered sex offenders. So perhaps its all the same? Perhaps it was because it was Monday? I'm sure there a gems to be found in here if you dug deeper.
We had only really read and noted Matt Barrett's
advice on Psiri
after the fact. All good stuff and worth a look. Even he seems to say its not easy to get well fed in there ('hit and miss"). So if you do venture in there - perhaps have food elsewhere and make it for a coffee and drink later on.
A few of us piled onto the roof our quirky old hotel (
Cecil
) on the edge of Psiri and said Yiassus to this amazing city with a farewell shot of Ouzo. Next stop.. Santorini!
Tweet